LIBER Launches New 2018-2022 Strategy
Today LIBER is putting its 2018-2022 Strategy — Research Libraries Powering Sustainable Knowledge in the Digital Age — into action. 
Three Strategic Directions are at the heart of our Strategy, positioning research libraries as Platforms for Innovative Scholarly Communication, Hubs for Digital Skills & Services and Partners in Research Infrastructure. Activities under each direction will provide direct support to LIBER's network of 400+ libraries.
Research libraries will continue to be represented strongly in the ongoing European copyright reform process;
An annotated library of Data Management Plans will be published;
The state of Digital Humanities in European research libraries will be assessed and published;
Webinars on key Research Data Management topics will provide guidance;
Leadership training will be offered for current and aspiring library directors.
These goals represent just some of the work which will take place in the coming five years, as we work towards a new vision of the research landscape. In 2022, we see the research landscape as one where:
Open Access is the predominant form of publishing;
Research Data is Findable, Accessible, Interoperable and Reusable (FAIR);
Digital Skills underpin a more open and transparent research life cycle;
Research Infrastructure is participatory, tailored and scaled to the needs of the diverse disciplines;
Tomorrow's cultural heritage is built on today's information.
We have set up Working Groups to cover key topics related to our Strategy:
Led by professionals from LIBER libraries, these groups will collaborate with LIBER's Office and Executive Board to carry out the activities and tasks of the Strategy. As the Strategy progresses, new groups will be set up to focus on other priority areas and some groups will be disbanded, after meeting all their goals.
Why These Topics?
Strategy development is fundamentally about choices and priorities. At an interactive Knowledge Café session at our 2017 Annual Conference, we presented the LIBER network with a number of possible activities and asked them to use green and red stickers to select areas of high and low priority for the coming five years.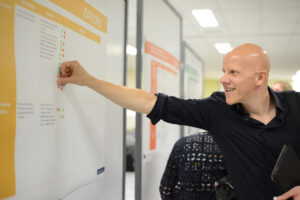 When the votes were tallied, we had a strong mandate to continue advocating for Open Access policies and mandates, for FAIR Data and for a research-friendly copyright regime as part of the European Commission's copyright-reform process. Topics such as how to support and implement innovative metrics, build capacity for Research Data Management and partner with digital scholars were also highly ranked.
These priority areas align with our Working Groups.
In a later phase of the Strategy, we plan to add Working Groups on Linked Open Data and Text and Data Mining — two topics which were also prioritised at the Knowledge Café.
Through our efforts, we aim to help research libraries fulfill the incredible potential they have to transform the world. By giving LIBER libraries the tools and skills they need to deliver world-class research, they can directly support the entrepreneurs, inventors and leaders of tomorrow. We invite you to join us.
Become part of a Working Group.
Attend our Annual Conference.
Share the Strategy with others, and share your feedback with us as we help the research library community prepare for 2022!