Open Access Funding Pilot: 400+ requests approved, €1 million distributed
LIBER is in charge of running the OpenAIRE FP7 Post-Grant Open Access Pilot.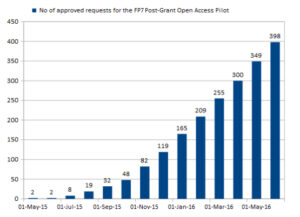 The pilot recently completed its first year of operation, and has already committed its first €1 million in funding, out of €4 million total. Some results of the work done so far are included in a progress report. Highlights include:
421 funding requests approved as of mid-June. Journal articles continue to represent the vast majority of the funded publications (391) but there are also a growing number of funded books (25) and book chapters (9).
Average APC fee for these approved requests for articles and book chapters is €1,424 – a slight decrease compared to previous values. Overall average fees paid are stable and are expected to remain that way.
Pre-payment agreements signed with publishers including Copernicus, BioMed Central and Wiley. These agreements are expected to make both the funding request and the invoicing processes much easier for the researcher. Since pre-payments also mean a discount on the charged Article Processing Cost (APC), they are expected to save the Pilot some money.
So far the Pilot has mainly relied on institutions and libraries to reach out to researchers about the initiative. This has proved reasonably successful but also challenging. With the pre-payment agreements now in place, the Pilot is beginning to 'catch' potentially eligible publications at submission time. This offers clear opportunities to better reach out to researchers via publishers, while at the same time enhancing the role played by libraries.