Research Libraries Respond To The Coronavirus: A View From The University Library in Patras, Greece
How are Europe's research libraries responding to the coronavirus? What are the measures which can, and should, be taken? Giannis Tsakonas, head of the university library in Patras, shares what his library is doing now that all academic institutions in Greece are closed. We encourage all libraries to tell us what they are doing by filling in this open spreadsheet.
First of all, in Patras we are taking our responsibility as citizens very seriously, and taking
all necessary measures to prohibit the spreading of the pandemic. While we are
committed to the service of our community, public health is much more important
right now. We are therefore following the exact guidelines of the national public health/civic
protection department. We are also working with our institution's administration to take
all appropriate measures.
For Our Users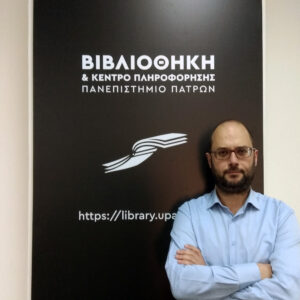 Giannis Tsakonas, head of the university library in Patras, Greece.
We have set up our circulation systems to avoid charging fines for as long as we are closed. Loaned books can be renewed for a longer period.
We are curating trustworthy resources for researchers (see our resources page). Many publishers, associations and learned societies curate lists of relevant articles that — for now — are free of access. We also indicate that access can be revoked at any time and that some of these sources (due to the urgency) might be preprints. We are careful to exclude opinion pieces, as we want to focus on scientific information and to find data, and for general public information we refer to the page of the public health department.
In addition to official resources, we are looking for other items of interest (e.g., systematic reviews, raw data, reference maps, information from the pharmaceutical industry). Experienced subject or liaison librarians can come up with more ideas, and interlibrary loan teams can also find articles for researchers.
For Our Staff
We are sensitive to individual needs and medical conditions. When our staff have concerns, or work closely with a colleague who has concerns, we encourage them to inform and consult our workplace doctor and the administration. We offer flexibility regarding travel arrangements and working from home.
We have set up work teams to communicate with users by phone, email and social media. We aim to be brief and clear in our communication. We ask for the patience and understanding of our users, and address their concerns with the promise of future formal announcements.
When we share information social media, we are aware that there will be some negative comments. We aim to stay polite and to show understanding
Within The Facility
We are asking our custodians and cleaning staff to deep clean all surfaces. This includes desktops, door handles, phones, keyboards, and flatbed scanners.
Staff are equipped with disposable gloves and alcohol-based hand sanitizer. We advertise this and hang handwashing signs in the building.
In Greece, all academic libraries have now been ordered to close. We have done this. However, if the situation allows you might consider adjusting working hours or the service in reading halls, or limiting the capacity of the reading rooms. Some libraries we know of have gone to a "front-desk and closed-stacks" mode that limits the traffic.
Even though we are closed for the public, we are opening windows to bring fresh air in the building for a couple of hours. This is also very critical for the facilities and we do that consistently every day.
We are not re-shelving books immediately, since we don't yet know how long the virus survives on soft surfaces.
Want to share your own library's experience dealing with the coronavirus? Please contribute to our crowdsourced information on the actions research libraries across Europe are taking.
Fill in the spreadsheet and share your experiences, so that all research libraries can learn and benefit.