Humans of LIBER Interview — Thomas Kaarsted, Deputy Library Director at the University Library of Southern Denmark. 
This interview is part of the Humans of LIBER campaign 2022 — which draws upon the pillars of the upcoming LIBER Strategy 2023 – 2027. We feature real people working at research libraries who make up the LIBER community. We believe that by highlighting our community in a more humane manner, we can create genuine connections within and outside of our network. We hope to see our community inspired by each of these personal stories of working at research libraries.
We interviewed Thomas during the LIBER Annual Conference 2022, which was hosted by the University of Southern Denmark (SDU) Library. Thomas gave us a tour of the SDU Library and Citizen Science Knowledge Centre, which is situated at the heart of the university campus, before finding a quiet spot amidst the busy conference programme to tell us more about his work. Now, over to Thomas: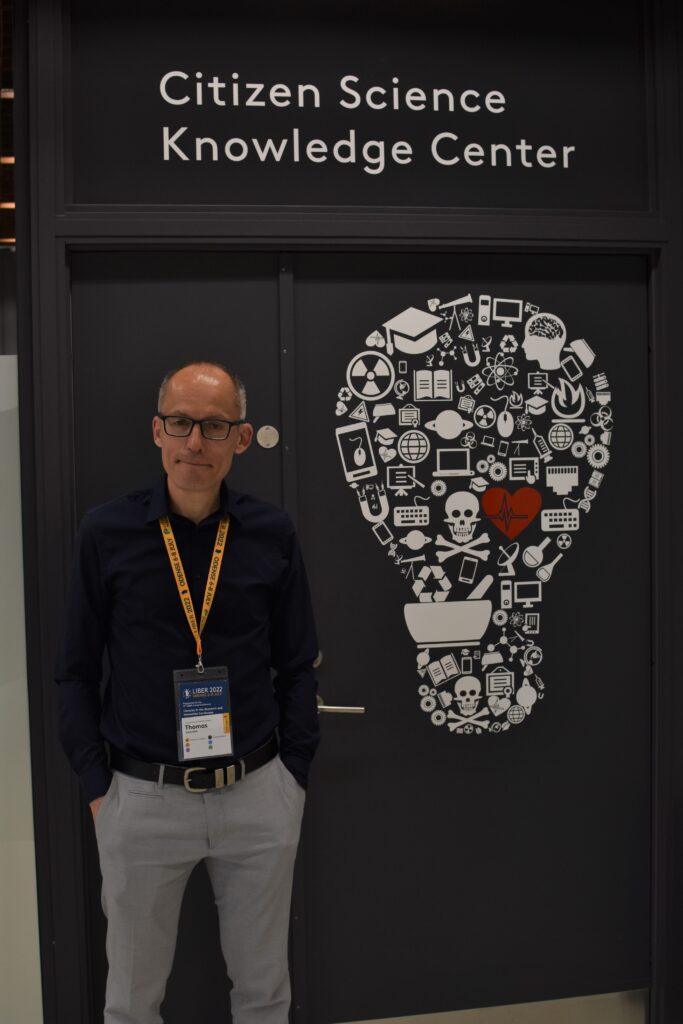 My name is Thomas Kaarsted. I am the Deputy Library Director at SDU Library in Denmark, but I have several roles here. Besides being part of the management group, I run the SDU Citizen Science Knowledge Centre. We have a matrix organization within the library regarding societal engagement, so that means besides Citizen Science, the Library has a comms team. And it also has what we call 'scholarly bridge building'. That is reaching out to high schools and public schools, within our region or within the country, to ensure pupils of all ages potentially get scientific-based education. That means Citizen Science projects, journalism camps, history projects, and so on. So yes, I have a couple of roles in the library.
Working at SDU
I was in publishing before and I had always been very aware of the democratic perspectives of both research and knowledge. And maybe I felt like the publishing industry was a little bit restricted in that regard. So I applied to SDU and was hired as Information Officer, and then in 2008 Communications Director at the library. It was actually an active choice. Then the role simply grew from there. I'm not a librarian by trade, I'm a historian. But once you have been working with a team of 20 librarians, you tend to know a little bit about libraries and a little bit about what librarians do. At that point, I found out that libraries, both as institutions, but also librarians or information specialists, have these wonderful transferable skills that we may not be aware of which can be used elsewhere. When our current library director, Bertil Dorch, came on in 2013, we began to plot out how we could be more active, outgoing, inclusive, even more democratic. Since then, we have done tons of events and programs for hundreds of thousands of students outside the university, but also for citizens in general. I have a very good working relationship with a number of national and local journalists and media people. So that is beneficial for the university as a whole.
Skills building in libraries
When we are hiring in libraries, we're still hiring librarians and information specialists. But I think we are also thinking strategically when we actually hire someone. If we need someone to do systematic reviews, for example, the best person might be a PhD from health science rather than a librarian. And if we want to strengthen our comms team, the best person might be a journalist, not a librarian. That being said, in the Citizen Science Knowledge Centre here half the staff we work with are librarians by trade. So it really depends on the role. If your job is to communicate and be focused on apps and websites and communicating messages, then maybe a user experience expert or a journalist is the right choice. But if you're organising events, disseminating data to the public, or developing teaching programmes in coordination with others, then a trained librarian is a perfect fit.
One of the things libraries could do a better job of in general is to work with researchers more as colleagues. Too often we are in the position of going to researchers and saying – 'sorry to interrupt you, but we think you might want to use this service', instead of meeting them as equal professionals. We take that very seriously here at SDU. The fact that we are not just there to serve researchers, but we are actually working together with them. I think that's an important thing to underline. That said, we also of course have a range of services in this field.
'If the university is a wheel, the faculties are the spokes, and we're the hub in the middle that ties everything together'
The LIBER Strategy – Libraries as Trusted Hubs
When it comes to students, teaching and education, I think SDU library is definitely a trusted hub at the university. Throughout the 2010s we made a lot of effort to improve our position culminating with our new library area here that is centred in the middle of all the faculties. If the university is a wheel, the faculties are the spokes, and we're the hub in the middle that ties everything together. We also strive at the Citizen Science Center to allow the library to be seen as a hub for Citizen Science and community-based research, following LIBER recommendations and guidelines. That is a huge work in progress and we're not there yet. But it's absolutely our ambition to get there. We have onboarded quite a few researchers that are very happy working with us – they got the results that they wanted or the funding that they needed. Researchers or universities, they want tangible results for something. They don't just want to work with us because we're nice people and have a nice library. They want their research to happen and they want to achieve something. And if you can actually partner up with them to achieve that, in our experience they are extremely forthcoming and grateful for the role the library plays.
Libraries and Open Science
The open science dilemma is a conundrum which has to be solved. And it comes with huge implications for the knowledge society. Because even though I deeply respect publishers' right to sell for profit – I used to be a publisher myself – I understand the conditions much better now. If we as a knowledge society not only want the chosen few behind paywalls to get access to the material, then we need to start thinking about how we can democratize knowledge. This is one of the reasons we do citizen science. When we do a history project with 20 high school classes, we allow them to do the actual research and get knowledge and empowerment for things that you normally would have to perhaps buy in a book. And I think that's also what we mean by 'new library services'. If we talk about sustainability, the library or knowledge industry, universities, we're not really sustainable. And I think that's the challenge for the long-term.
It's hugely imperative that we have organizations like LIBER that can spearhead some of these changes, such as the democratisation of knowledge and the move towards open access publishing. We as a library are well equipped in listening to the walls, meaning researchers, management, and students, and finding out how can we add extra value. But if we really want to solve the open science dilemma, then it's not enough to listen to researchers that might be in a publishing scheme where they get points or funding through old-school mechanisms. That only makes the problem worse. We as libraries are a big player in that; we are part of the problem by facilitating that mechanism.
'if we really want to solve the open science dilemma, then it's not enough to listen to researchers that might be in a publishing scheme where they get points or funding through old-school mechanisms'.
Innovation and society
We absolutely have a commitment to try to find solutions where we can work for all and not only the chosen few. And I think we have a real commitment to consolidate state-of-the-art services. They are, and should be, the backbone of any working library. But to be honest, sometimes the best strategy is simply going out and doing stuff, not waiting for big alignments to happen. Sometimes the best things happen when somebody does not follow the strategy, or if you have a license to be innovative. The issue with strategies is that they are so conformed and everybody has to agree on a lot of things, so it becomes political to some degree. You only make changes when people have room to experiment. And that is a fantastic dilemma for organizations like my own because we cannot have a bunch of idiots like me running around experimenting all the time. That will be absolute anarchy and mayhem!
If we really want to succeed as libraries, we absolutely need to take into account the societal component. We represent a lot of knowledge, and we pay a lot of money for much of that knowledge. And if we want to contribute to society, we simply have to come up with other, innovative solutions. Here at the SDU Citizen Science Knowledge Centre, we are a partnership between faculties, external partners and the library. So we do advocacy, run projects, and find funding for cross-disciplinary research. The only prerequisite is that the research, of course, has to include the public or a citizen science element. We have run 31 projects over the last five or six years. Some of them are repeated seasonally and turn into something bigger. So we are involved in everything from building high school programs for some of our projects, to facilitating or building apps, or making sure that every project has a communication package. We hold events on teaching and data collecting, and public engagement with science, which, of course, is a big component. But in the end, we want researchers to work with the public to actually collect data. And when it's beautifully done, when the citizens actually contribute to data interpretation or make results together with researchers, that is a journey.
'If we really want to succeed as libraries, we absolutely need to take into account the societal component'.
I believe we are only as good as our industry or niche in society, so I think it is necessary to get people together from time to time. We need to meet and learn from each other and work together towards a common goal. The projects that the European Commission is currently funding tend to be transdisciplinary and international research. We as libraries should be on board with that. We also have the conundrum of Open Science, and we need to meet, work together and learn from each other to move forward in a cohesive way. One of the things that COVID has shown us is that we can't solve things alone from behind our desks. We can work and be functional, but as libraries we should strive to be more than just functional.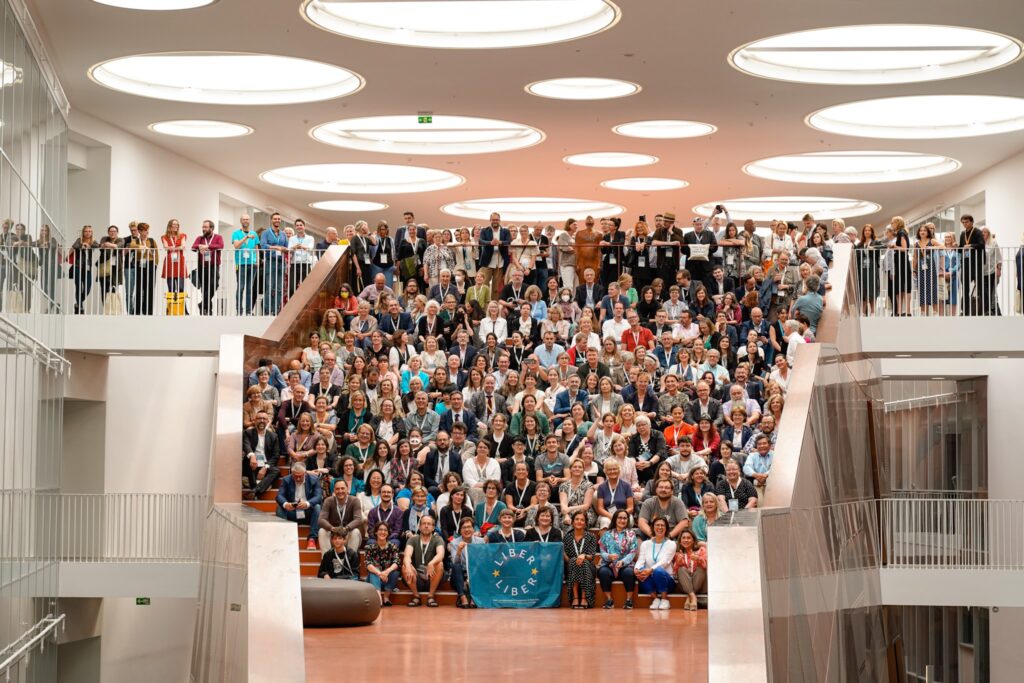 Outside of work
I sit and write from time to time and have an ambition of being a better novelist. I find writing very de-stressing. I also live on a fantastic island here in Denmark, with plenty of nooks and crannies and small roads, so when I have the time I go out on my bike and discover new places. Despite living here almost my entire life, I find there are always new places to explore.
The LIBER communications team visits different member institutions to conduct interviews. Are you interested in being featured? Please email us at liber@libereurope.org.