Introducing LIBER's New Head of International Projects: Vasso Kalaitzi
LIBER is pleased to announce that Vasso Kalaitzi has been promoted to Head of International Projects.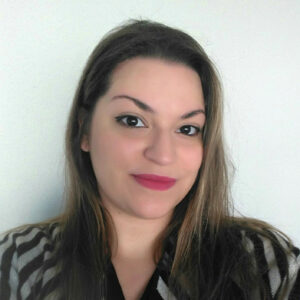 Vasso has worked for LIBER for two years and has been an invaluable member of the team, applying her project management, quality assessment and communications skills to the EOSCpilot, EUDAT and FOSTER projects.
She has proven herself to be innovative and committed, and will now oversee LIBER's entire project portfolio. In this new role, she will continue to be involved in the daily running of projects and will take on the responsibility of identifying new project opportunities for LIBER and our network of libraries.
Vasso will formally step up from her current position as Communications & Finance Project Officer on 1 January 2019. For those in the LIBER community who don't yet know Vasso, we did a short interview with her.
Tell us about yourself. What is your background, and how did you come to be working for LIBER?
I consider myself a generalist, as I have consciously rotated in several positions in multinational environments throughout my career so far. I have been working on EU funded projects on Open Access, Open Science, Open Data and Innovation since 2012. This experience, as well as the interaction with valuable colleagues throught the years, has taught me the lifecycle of the projects and the approach that is best followed in terms of risk, quality, planning, information and financial management, but also the actual project content creation through collaboration with various project partners.
In 2017 I decided to leave Greece and come to work for LIBER in the Netherlands. This did not come as a surprise, as I have been collaborating with LIBER since my early days in EU projects and I was always very interested in its mission and activities. Within these two years, LIBER gave me the opportunity to grow and offer my skills in several areas, which, among others, is a reason why I want to be part of this organisation.
I hold a bachelor's degree in Political Science and Public Administration, a certificate of specialised training in Cultural Units Management and an executive MSc in European Studies (political, economic and legal). My MSc thesis was on the role of lobbying in the integration process of the EU secondary legislation into national law.
What do you enjoy about working for LIBER?
LIBER is a pioneer in Enabling World Class Research. I respect and deeply care about its vision and activities. I value the way LIBER works on a daily basis in order to strengthen the voice of research libraries and in providing important input in several key areas. I admire LIBER's ethos and practices and I am especially proud of being part of this hard-working, creative, passionate and very professional team!
What are you hoping to achieve next year as Head of International Projects?
LIBER is a stable and reliable organization that represents 450 research libraries from around Europe. In addition to its community's expertise through its working groups, lobbying activities and, of course, the Annual Conference, LIBER has been highly involved in EU projects in the past years. This has created a bidirectional bond between Research Libraries and other key stakeholders in supporting Open Access, FAIR principles, Text and Data Mining, Open Science in vision and in practice, as well as the European Open Science Cloud. Through my new role I aspire to strengthen this bond and enable LIBER to implement its Strategy and Vision and to further provide its Members' expertise through its participation in EU projects.