LIBER Quarterly: Could You Be Our Next Managing Editor?
LIBER Quarterly is the peer reviewed, open access journal of LIBER, the Association of European Research Libraries.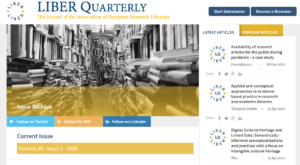 The journal covers all aspects of modern research librarianship and scientific information delivery. It strives to link Library and Information Sciences (LIS) scholars and research-library practitioners by publishing both theoretical contributions and examples of good practices.
The role of Managing Editor is key to the journal's success. If you are passionate about sharing knowledge with the research library community and would like to gain experience as a journal editor while expanding your network, please consider applying for this voluntary role. The new editor will work alongside LIBER Quarterly's current Managing Editor, Raf Dekeyser.
Responsibilities
The new Managing Editor will undertake the following tasks:
Evaluate submissions in order to determine which papers should be reviewed by the Editorial Board, and which need to be rejected;
Correspond with submitting authors regarding their paper submissions;
Identify interesting work going on in the research library community and encouraging authors to submit a paper to LIBER Quarterly;
Participate in a taskforce to determine LIBER Quarterly's future direction, including a possible move to open peer review;
Join meetings of the Editorial Board;
Report on LIBER Quarterly's work to LIBER's Executive Board.
Your Profile
Currently practising or former librarian/information professional;
Affinity with LIBER's vision and mission, and the needs of research libraries;
Interest in, and knowledge of, open scholarly communication.
Excellent spoken and written English;
Willing to commit to the role for at least two years.
We Offer You
The chance to become part of a community of some 200 research library professionals across Europe who collaborate with each other, build networks and support LIBER through their roles in Working Groups, on Committees and the Executive Board;
Complementary access to LIBER's Annual Conference, including travel costs, so that you can meet potential journal contributors in-person;
Personal development and variety in your work.
To Apply
Do you recognise yourself in this role? For an informal discussion regarding the position, please contact LIBER's Secretary-General, John MacColl. To apply, please submit a CV and covering letter to the LIBER Office using 'LQ Managing Editor' in the subject line. The closing date for applications is Sunday 31 May.