LIBER Signs Joint Open Letter To European Commission
A diverse group of stakeholders including civil society, library, cultural, and industry organisations have issued a joint open letter to the European Commission.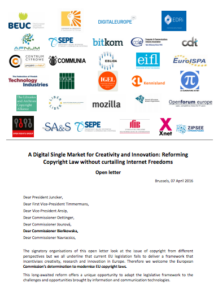 LIBER is a signatory to this letter, which calls on the European Commission to introduce copyright reform compatible with the digital environment without curtailing the rights of citizens to freedom of communication and access to knowledge.
The letter has been issued in the wake of recent steps by the Commission to explore broadening the scope of intermediary liability and neighbouring rights.
Speaking about the letter, LIBER Executive Director, Susan Reilly, commented: "The diversity of the signatories of this letter is significant. What is being explored here is completely at odds with the way the internet is being used today and could have a seriously negative impact on how libraries deliver their services and on the intellectual freedom of the researchers we serve."
Following on from this letter, over the coming weeks the LIBER Copyright Working Group will prepare a response to the EU consultation on neighbouring rights and will encourage LIBER institutions to respond individually. The consultation will be open until 15 June.