ELE Project
Surveying Research Libraries on Language Equality — ELE Project  
LIBER participates in the European Language Equality (ELE) project, together with 51 other European organisations. This large and ambitious project has members representing Europe's recognised languages, as well as network organisations such as LIBER, each working towards the goal of language equality on the continent by 2030.  
As part of our work on this project, we surveyed, interviewed, and started conversations with our research library participants in our network to understand the landscape of language technology users and consumers. These efforts produced D2.10 — an ELE project deliverable that helps analyse the European landscape on LTs (Language Technology) within different sectors. Below you will find some of the key findings from the survey. You can also download the complete report from the project website. 
Key Survey Findings 
The survey results found that there is a great imbalance in how different languages are supported by technology. A key goal of the #ELE project is to address this disparity.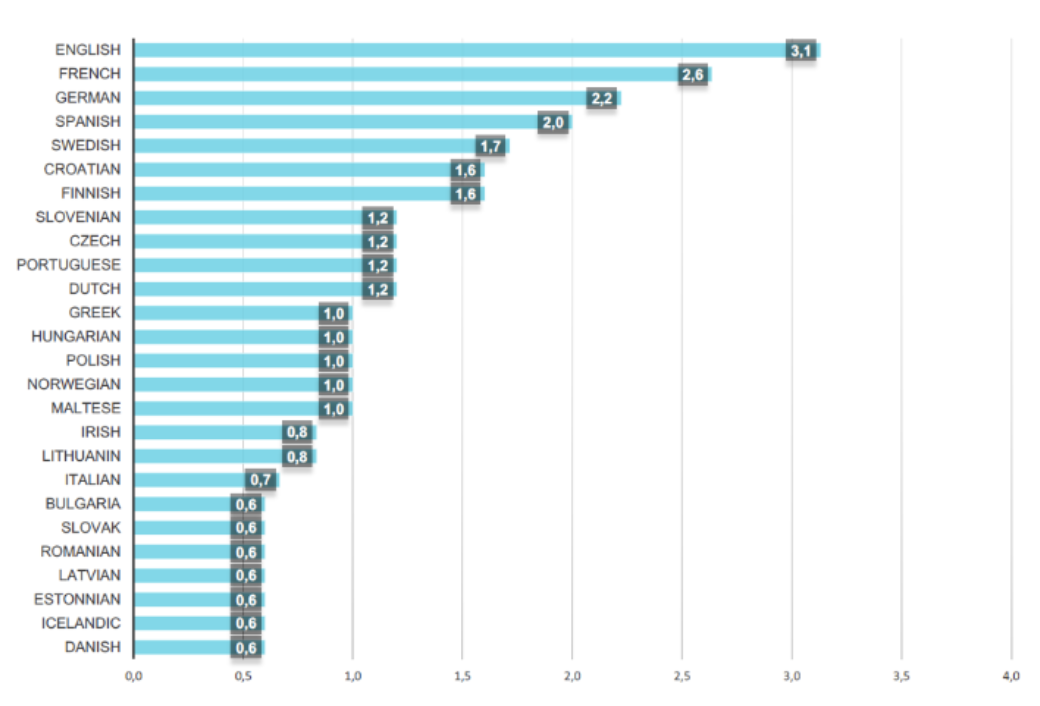 Some respondents hoped to expand the range of languages used within respondents' workplaces, with 27% hoping to incorporate new languages in the next three years. This points to a perceived value of multilingual practices within European research libraries.  
Through interviews the role that translation tools play in more equitable scholarly communication was apparent, however, the best way to do this, the processes, the technologies, the skills, are still lacking and the path to do this remains unclear.  
"…[P[ublishing research with a machine translation of articles helps to support a range of languages and increases the visibility of findings, no matter the language of publication, ultimately furthering the goals and aims of the Open Science movement." — ELE Report 
In close, the ELE report, D2.10, has furthered both LIBER's understanding of European research libraries and contributed to the ELE project's goals.  
"The ELE project gives LIBER the opportunity to develop knowledge and raise awareness of language technology within the library community and highlight the role this could play in the future. We see this as an important topic for open science and scholarly communication that should be on the agenda for research libraries." — Andrej Vron, LIBER's Head of Projects. 
 The ELE project draws to a close this year. For more information on the aims of the project, we suggest you read this introduction. You can also download the complete report from the project website. Feel free to follow the project on Twitter.  
 Author: Oliver Blake, Community Engagement and Communication Officer, LIBER 
[Thumbnail Photo by Towfiqu barbhuiya on Unsplash]