Knowledge Rights 21 Project
Upcoming Event: eBook Licensing in Europe and the Vanishing Library?
Unaffordable prices, an inability to buy eBooks due to a refusal to sell, bundling of unwanted titles in packages, and restrictions on research copying all affect access to eBooks in all types of libraries.
Confidentiality clauses in contracts between publishers and universities are also making understanding how the eBook market functions more challenging, and obscuring whether public money is being well-spent.
The #ebooksos campaign has successfully highlighted via the BBC and the Guardian the issues faced by the education and research sectors in accessing and using e-Books. The same issues are also being faced by public libraries across Europe.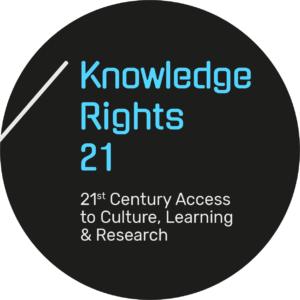 Join us, 3pm – 4:30pm CET on 15 July 2021.
This session will explore in depth the acute difficulties faced not just by higher education, but also by public libraries, caused by publishers' pricing and licensing practices, and discuss possible solutions, including the potential to solve many of the problems with legal solutions in copyright law that allow Controlled Digital Lending.
It will also include information about the Knowledge Rights 21 Programme (KR21), an initiative led by Stichting IFLA Foundation, setting out its aim to achieve and implement reforms to copyright law, regulation and practice that enable knowledge institutions to provide significantly greater possibilities to access and use copyright works.
Working with public, national, educational, health and research libraries, universities and the wider access to knowledge movement, KR21 aims to promote copyright reform at the European and national levels, and through its work leave a lasting legacy that influences similar developments elsewhere in the world.
Register here. 
[Photo by @felipepelaquim on Unsplash]