Digital Scholarship and Digital Cultural Heritage Collections Working Group
Wanted: New Members for the Digital Humanities & Digital Cultural Heritage Working Group
After the successful presentation of the survey results, the Digital Humanities and Digital Cultural Heritage Working Group is already making plans for the coming year. In our new work plan we shift our attention to new topics emerging from the survey. To support our upcoming activities, we are looking for new people to join the group.
Who are we looking for?
We are looking for people working at all levels within LIBER libraries to help us work on activities within the identified themes. We aim to 1) strengthen the position of libraries within Digital Humanities, 2) build a knowledge network of librarians in Europe, and 3) aid new libraries in working in Digital Humanities.
In the new work plan we focus on four themes:
Digital Collections (chaired by Marian Lefferts & Lotte Wilms)
Impact of Digital Humanities activities in libraries (chaired by Kirsty Lingstadt and Merisa Martinez)
Provi(di)ng expertise (chaired by Caleb Derven)
Relationships with the research community (chaired by Liam O'Dwyer)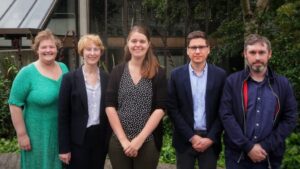 Core team of the Digital Humanities and Digital Cultural Heritage Working Group. From left: Marian Lefferts, Kirsty Lingstadt, Lotte Wilms, Liam O'Dwyer and Caleb Derven.
What do we expect of you?
In the coming weeks the work plan will be elaborated into activities using the feedback we received during our workshop at the LIBER conference. All activities will have a specific timeframe and input will be collected throughout the year. You can therefore contribute to the working group when and if you have time. Being a member in this working group is flexible and the core team will contact you when we can use your help or input. We are currently thinking of carrying out activities such as:
Webinars
Thematic meetings at relevant events, such as the LIBER conference
Use cases
Reading lists
A document base with policy documents, job descriptions and other relevant input
How can you join?
Please let the chairs of the working group (Lotte Wilms and Kirsty Lingstadt) know if you would like to join the working group and indicate which theme you find most interesting.
The working group will start it's work in September and therefore we would like to ask you to express your interest in joining the working group by 31 August 2019. However, if you see this message after the indicated deadline and you would like to join, please don't hesitate to contact the chairs – late applications are also welcome.