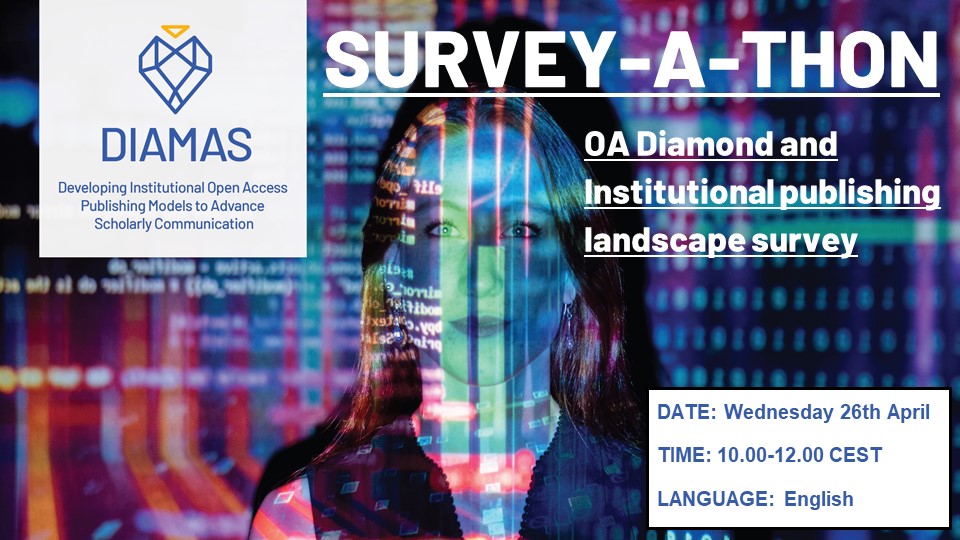 DIAMAS Project SURVEY-A-THON
The DIAMAS project's Diamond Open Access and Institutional Publishing Survey has just been launched. It aims to collect information to better understand institutional publishing in Europe to build capacity across Europe based on evidence and good practice for a more equitable publishing ecosystem.
Does your library provide any publishing services for institutional journals? Do you support journals operating from your university? Are you aware of scholar and student-led journals in your institution? If yes, then we invite you to take part and join our SURVEY-A-THON!
About
LIBER & SPARC Europe will organise a SURVEY-A-THON on 26th April, 2023, at 10:00 AM CET. This event offers a simple way to block time in your calendar for DIAMAS Diamond OA and Institutional Publishing survey and ensure you don't run into any difficulties throughout the questionnaire. You will complete the form with others in a live session with experts on standby to field questions and queries. The online session will last a maximum of two hours. Participants will have a short introduction to DIAMAS and the aims of the survey. Attendees will then have time to complete the survey.
To prepare, we ask that you read the PDF copy of the survey before the event. You are encouraged to use this session how best suits you – mute your sound and work through the survey, asking questions only if you run into an issue; participate in the discussion as you work through the questions.
Registration
Attendance is open to all. Registration is mandatory. Sign up here.
This SURVEY-A-THON is hosted in English. For information about sessions in other languages, visit the DIAMAS website.