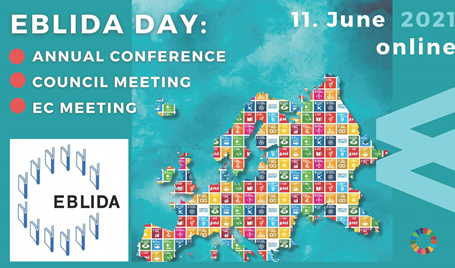 29th EBLIDA Annual Conference: 'European Structural Funds and Libraries: the win-win approach'
The European Bureau of Library, Information and Documentation Associations (EBLIDA) is a voice for Libraries in Europe. In September 2020, EBLIDA launched the "Think The  Unthinkable" (TTU) strategy, aimed at setting up a post-Covid library agenda that would meet sustainable development goals. To do this, nine workshops across six European countries were set up to discuss this matter. On the 11th June from 3-5pm, the 29th EBLIDA Conference will cross fertilize the findings of the TTU strategy and offer the results of this approach to EBLIDA members and the public.
The two-hour conference will present case studies of projects that have received European Structural and Investment Funds (ESIF), national Think The Unthinkable (TTU) strategies, an overview of ESIF future steps and project evaluation in the cultural field.
Find out more and view the event programme here:
Objectives
To inform EBLIDA Members and the general community of librarians of the TTU strategy and the activities having been ignited by EBLIDA's work;
To share ESIF-based best practices and SDG-oriented activities in libraries;
To inspire similar projects and practices in European libraries, both at national and local levels, and connecting them to the EU level;
In the long term, to raise the status of libraries and make them structurally relevant within the 2030 European agenda on sustainable development.
Who can attend?
The conference is free and open to all. If you are a member of EBLIDA, you can register for the EBLIBA Council Meeting and get priority registration for the Conference here.
For all members of the public, register for free here.
PLEASE NOTE:
Registrations are limited and will close when the maximum number of participants is met. Register soon to ensure your place!