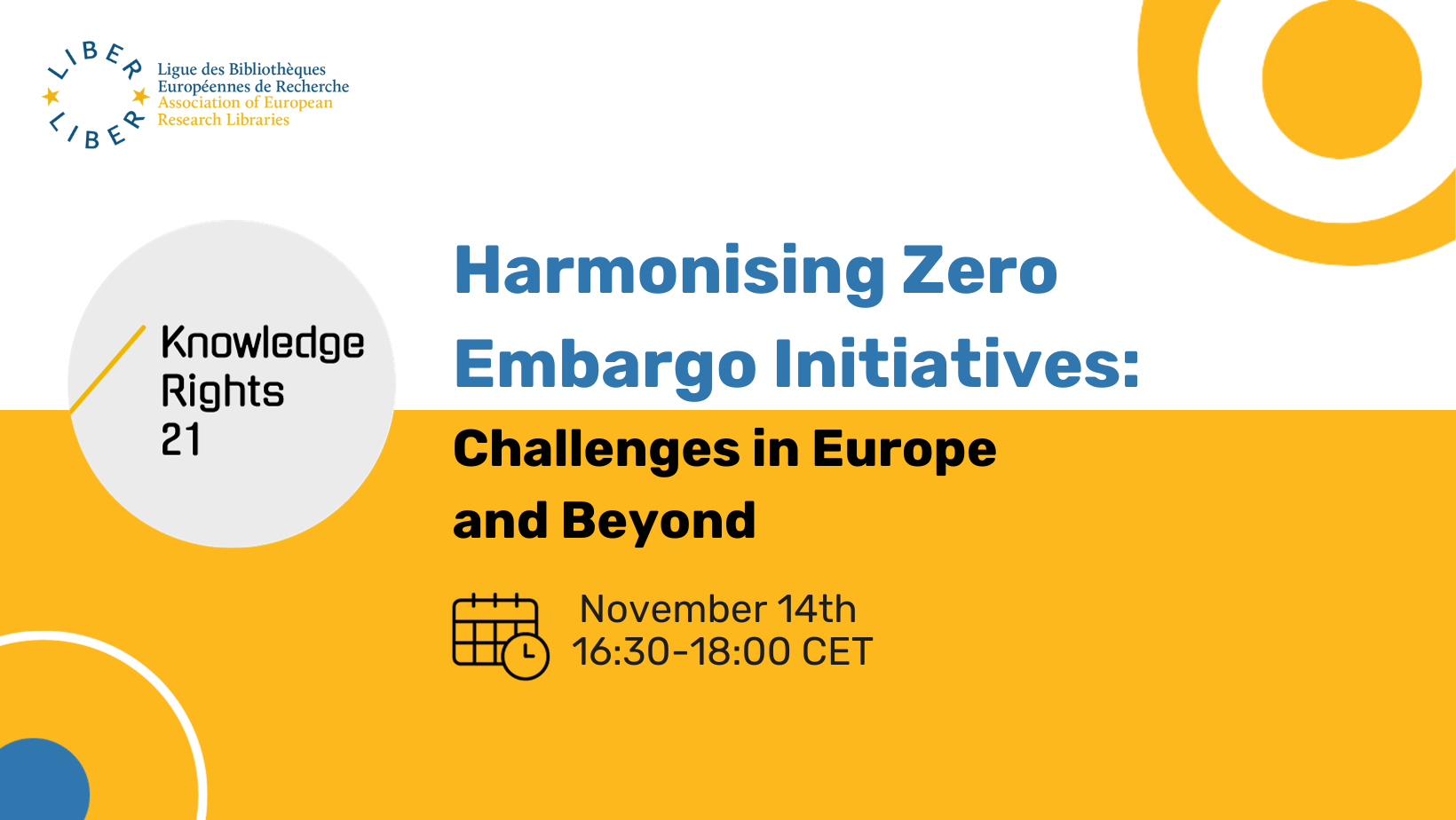 Harmonising Zero Embargo initiatives: challenges in Europe and beyond
LIBER, in the Knowledge Rights 21 Project (KR21) framework, will host an event on 14 November on efforts to harmonise Zero Embargo initiatives across Europe and beyond. In this webinar, a panel of experts will present the challenges in harmonising Secondary Publishing Rights legislation across Europe and the symbiosis with other instruments, such as the Rights Retention Strategy and the initiative in the US to implement a zero embargo campaign.  
About the event
The overall goal of the webinar is to explore initiatives and barriers to harmonise Secondary Publishing Rights (SPR) legislation. We will explore how legislation can go from a national to an international level so that publicly funded research output will be shared openly and without any embargo period. This webinar gives insight into how Secondary Publishing Rights can enable the immediate access to research findings, the course of needed action to get there, and identify which stakeholders must act.
Each speaker will make a short presentation about their perceived challenges before engaging in an in-depth panel discussion about the harmonisation of legislation for immediate access to scientific knowledge. This will be followed by a 40 minute panel discussion with the opportunity for the audience to engage, question, and share their experiences and perspectives.  
The session is closely related to the KR21 Research on Secondary Publishing Rights and acts as a follow-up event to the project's webinar on May 4th – available to watch again here.  
Read the LIBER report on Secondary Publishing Rights: Secondary Publishing Rights in Europe: Status, Challenges & Opportunities.
Attendance
Anyone interested in Open Science is invited to this session to engage with our speakers and share their views.   
Register to attend.
Speakers  
Judy Ruttenberg, (Senior Director of Scholarship and Policy, Association of Research Libraries) 
Christina Angelopoulos (Associate Professor in Intellectual Property Law, University of Cambridge)
Robert Kiley (Head of Strategy, cOAlition S)
Mattias Björnmalm, (Secretary General, CESAER)
Moderator: Martine Pronk (LIBER Executive Director)