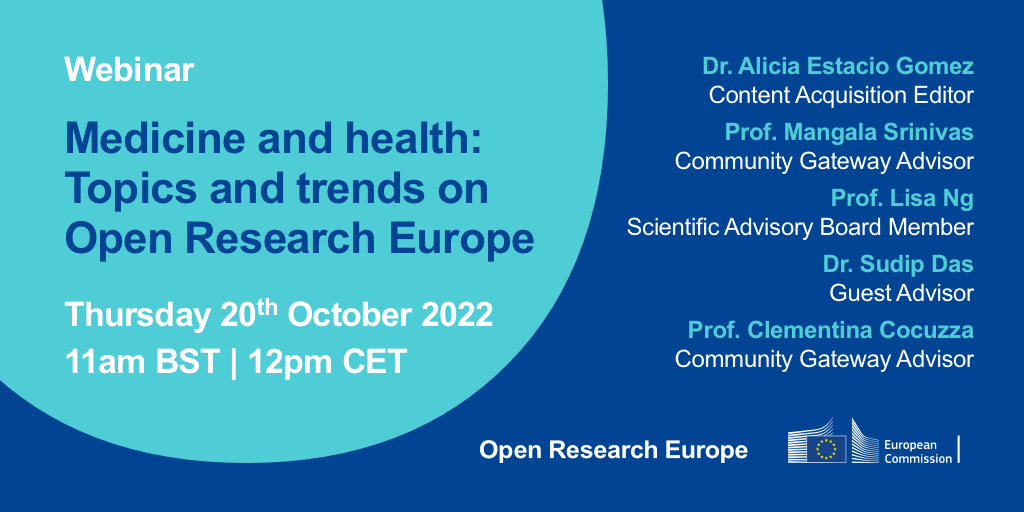 ORE Medicine and Health Webinar
In this webinar, chaired by Dr. Alicia Estacio Gomez (Content Acquisition Editor at Open Research Europe), the expert panel Prof. Mangala Srinivas (Community Gateway Advisor, Medical Biotechnology), Dr. Sudip Das (Collection Advisor, Immunological Disruptions and Interventions), Prof. Clementina Cocuzza (Community Gateway Advisor, Clinical Medicine) and Prof. Lisa Ng (Scientific Advisory Board Member, Medical and Health Sciences) discuss the key topics and trends in Medicine & Health on Open Research Europe.
Registration
Are you interested in learning more about Data Notes and how it can benefit the researchers at your library? Join this webinar on Thursday 20 October, 12:00 CEST. Registration now open. 
Who is this event for? 
This webinar is perfect for researchers from any field or career stage who wish to learn more about the Open Research Europe Platform and new opportunities within medical and health sciences.