Digital Scholarship and Digital Cultural Heritage Collections Working Group
A Digital Humanities Reading List: Part 2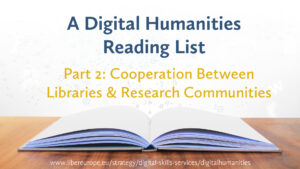 LIBER's Digital Humanities & Digital Cultural Heritage Working Group is gathering literature for libraries with an interest in digital humanities.
Four teams, each with a specific focus, have assembled a list of must-read papers, articles and reports. The recommendations in this article (the second in the series) have been assembled by the team in charge of Cooperation and Relationship Between Libraries and Research Communities, led by Liam O'Dwyer of Dublin City University.
The Second Theme: Cooperation Between Libraries & Research Communities
As Digital Humanities (DH) evolves, the role of libraries and librarians working in the field continues to develop. A core factor in realising the opportunities that DH presents for libraries – and that libraries present for DH – is the level and nature of cooperation between libraries and their research communities. How do libraries find their DH research communities? How do we let 'them' find 'us'? How are these connections best facilitated and fostered?
A significant body of literature focuses on this aspect of DH Librarianship and this post results from an appropriately collaborative attempt to list must-reads.
It is somewhat reassuring that across these writings there are recurring themes, and interesting to see how they relate and intersect. Library skills and functions are a natural fit for DH, yet a reframing of roles can help communicate their relevance to the field. DH offers great potential as an area of growth but strategic alignment and commitment of resourcing are essential for that potential to be realised. While it may no longer be new, DH remains decidedly different in the challenges and opportunities it poses for libraries – and particularly how libraries and researchers collaborate. Posner acknowledges the reality of much DH scholarship as "eccentric, unpredictable, bespoke, and prone to failure. It will not match up neatly with a library's existing workflows". These truths, however unpalatable to the DH-enthused librarian, indicate that libraries need to adjust and experiment to succeed here. As Posner again puts it, "DH is not, and cannot be, business as usual for a library"
For further reading there are of course many more comprehensive listings than this post covers. In the course of our discussions, the following were mentioned:
Our own Zotero list of the writings mentioned in this post can be found here.
To find out more about the team and LIBER's work in this area, see the Digital Humanities & Digital Cultural Heritage Working Group page.