Digital Scholarship and Digital Cultural Heritage Collections Working Group
A Digital Humanities Reading List: Part 3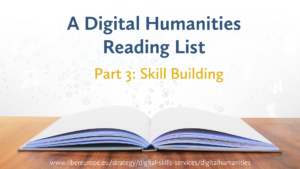 LIBER's Digital Humanities & Digital Cultural Heritage Working Group is gathering literature for libraries with an interest in digital humanities.
Four teams, each with a specific focus, have assembled a list of must-read papers, articles and reports. The recommendations in this article (the third in the series) have been assembled by the team in charge of enhancing skills in the field of digital humanities for librarians, led by Caleb Derven of the University of Limerick.
The Third Theme: Skill Building
The recommended readings and tutorials in this post broadly focus on what skills are needed for providing DH services in libraries and how library staff can acquire these skills.
In the case of the former, we examined resources that resonated as representative or evocative of what skills library staff might obtain allowing them to participate in digital humanities work or practices. With the latter, we've highlighted a few skills tutorials that provide practical instruction in useful tools and skills for DH practice. Of course, given the sheer plurality of both web-accessible and published resources, this posting highlights a sampling of what's available. The Working Group's Zotero library, and items specifically related to skill building within libraries, offers a surfeit of additional starting places.
The Skill-building team of the Working Group will be providing additional posts in the coming months that highlight both specific use cases faced in LIBER institutions and potential challenges in providing DH services.
To find out more about the team and LIBER's work in this area, see the Digital Humanities & Digital Cultural Heritage Working Group page.