European Research Organisations Call On Elsevier To Withdraw TDM Policy
Eighteen European research and library organisations, including LIBER, are today calling on Elsevier to withdraw its current policy on text and data mining (TDM)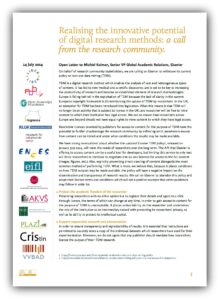 Our request has been laid out and explained in an open letter to Michiel Kolman, Senior VP Global Academic Relations at the academic publishing company.
We believe that Elsevier's current TDM policy places unnecessary restrictions on researchers. It limits their ability, and their right, to mine content to which they have legal access.
TDM allows researchers to derive information from articles and datasets by seeking patterns in text and data, including the use of robots to 'crawl' through information directly. It enables rapid searches of vast quantities of text and data to produce new discoveries and analyses that individual readers could not achieve, but in order to be most effective it will require the agreement of new protocols, and the renegotiation of access restrictions.
The UK has already legislated to remove licensing restrictions on TDM, and we would hope to see publishers supporting a similar move in Europe, for the benefit of all our research and knowledge communities.
In this letter we outline some of the ways in which the Elsevier policy restricts researchers' abilities to perform TDM by requiring them to register their details and agree to a click-through license that can change at any time, and how it unfairly mandates conditions by which research outputs derived from TDM can be disseminated.
We provide constructive alternatives in every instance, and hope to continue advocating for conditions by which TDM can become an increasingly valuable tool for European researchers.
The signatories are:
This letter is part of LIBER's larger campaign for a European copyright exception for TDM. We believe that the right to read is the right to mine.
For enquiries or to add your signature to this letter (as an organisation or as an individual), please contact Susan Reilly, Advocacy & Projects Manager at LIBER. Email: susan.reilly@kb.nl Phone: +31 (0)70 314 01 60.