Humans of LIBER Interview — Mariana Palashevska, Librarian, National and University Library of Skopje, North Macedonia
This interview is part of our Humans of LIBER series. We feature real people working at research libraries who make up the LIBER community. By highlighting our community and the people who work in LIBER libraries across Europe, we aim to inspire, connect and strengthen our network – and emphasise the value of being a LIBER Member. We hope you enjoy each of these personal stories from our research library network.
We interviewed Mariana – a representative form LIBER's only North Macedonian member library – during the LIBER Annual Conference 2023 in Budapest, Hungary.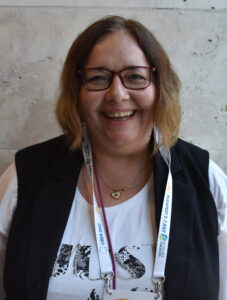 My name is Mariana Palashevska and I am a Professor of German Language and Literature. I have been working for the National and University Library of 'St. Clement of Ohrid' in Skopje, North Macedonia, for 16 years. From 2007 until 2017 I worked in the German Reading room, and during my time there I managed plenty of projects and cultural events. Since then I have worked in the in the department of cataloguing and the virtual library of Macedonia. My job there is to catalogue foreign monograph publications.
Entering the library field
I visited the National Library of Macedonia during my secondary education and during my studies. I have always been interested in reading and learning languages. That's what made me want to work in the library – to be surrounded by books from a range of languages. In 2007 a position opened in the German reading room in the National and University Library or Macedonia, and because of my interest in the German language I took the role. My position in the library has grown since then.
A day at work at the National Library of North Macedonia
Most of the time I am in front of the computer! I am cataloguing books and writing records for cataloguing in publishing. I try to collaborate with other departments of the library, mostly with the Department for International Relations and Cultural Events.
I find my work very interesting because I'm constantly in touch with other languages. In the library I am surrounded by books in other languages, and I learn something new every day. I now speak not only German but Italian, Serbian and Croatian – this is what keeps me engaged!
Challenges to libraries in North Macedonia
The biggest challenge for our library is to stay visible to the public. We get very little support from those in charge of funding our work. Every day we are looking for new ways to make the library visible. My colleagues are enthusiastic and try to make the most of the work we do, but the lack of support can be very challenging.
We run campaigns to make the library more visible and put on events. Our challenge is to make the public curious about the library, because the younger generation – our students – are mostly on the Internet now. They do all of their research online, working in a virtual reality. They don't understand the importance of the library as a physical place. Our challenge is to show them our potential and help them understand the value of the library and the people who work here.
Engaging with the LIBER network
I was able to come to the LIBER Annual Conference because of the Conference Fund. I want to take the chance to thank LIBER for this opportunity. My main motivation for attending this year is because I'm interested in Citizen Science. I recently joined the Citizen Science Working Group and I was able to meet with members for the first time this week to exchange ideas. It is great to meet other enthusiasts in person.
I think Citizen Science can play an important role in helping our library be more visible to the public, and for the wider citizens in Macedonia. Citizen Science activities will hopefully encourage our users to not just sit and take a book when they come to the library, but to actively engage with the research we do.
Benefits of the LIBER Annual Conference
One of the greatest benefits of being here is that I have met new colleagues who are open to collaboration. I have had the opportunity to learn more about Citizen Science by discussing with expert members of the group. With this knowledge, I will teach my colleagues in Macedonia what I have learned, and they can pass on this knowledge to others. Knowledge sharing does not stop when the conference ends!
I am also keen to learn more about the digitisation of cultural heritage and to take these lessons back to my library in Macedonia. Our library is at the beginning of digitalising our collections and our digitalisation centre is not very big. But we are trying to make it more visible, both within the University and to the public. The value of being here at the LIBER Annual Conference is that we can learn from the actions of other libraries who are more advanced in this field. I will take home some excellent new ideas on how to improve our work on digitalisation.
Outside of work
Alongside my work I am a German/Macedonian translator. I am also a member of two associations; the Association for Friendship and Collaboration between Macedonia and Germany, and the Librarian Association of Macedonia. Of course, I am very interested in Germany and German culture! I often travel to Germany – Belin and Munich are my favourite cities to visit.
This interview was conducted by Oliver Blake in July 2023. Do you have questions about his interview or want to get in touch with Mariana? View her profile here.