Humans of LIBER Interview — Mutaleni Nadimi, Project Manager, Erasmus University Library
This interview is part of the Humans of LIBER campaign 2022 — which draws upon the pillars of the upcoming LIBER Strategy 2023 – 2027. We feature real people working at research libraries who make up the LIBER community. We believe that by highlighting our community more humanely, we can create genuine connections within and outside of our network. We hope to see our community inspired by each of these personal stories of working at research libraries. 
[This article is a six-minute read]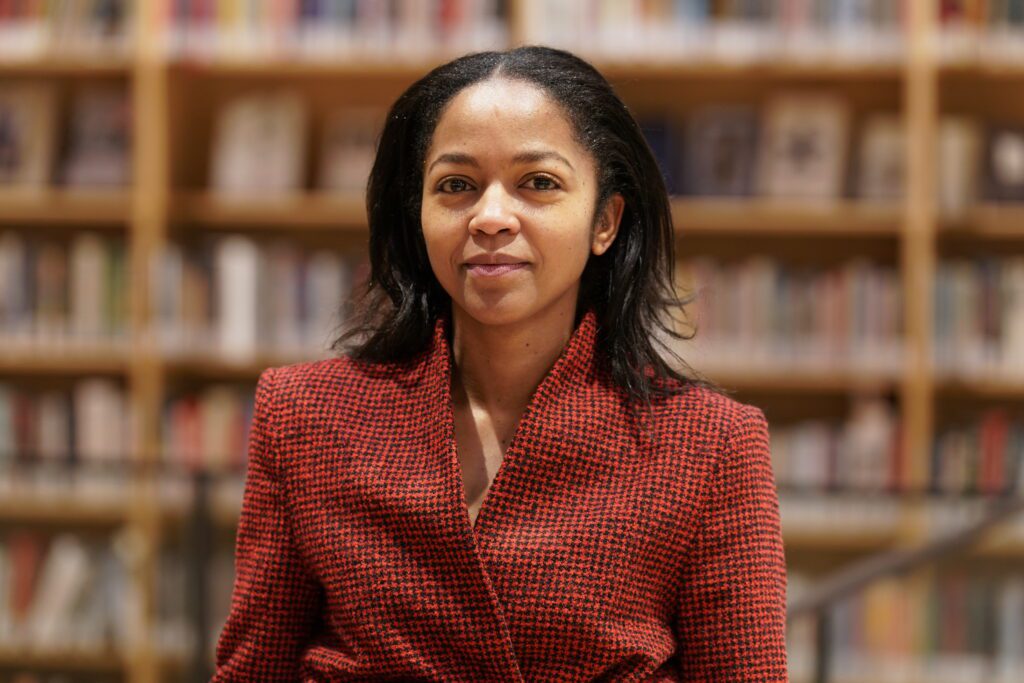 We interviewed Mutaleni on the 15th of December 2021 at the Erasmus University Library in Rotterdam. Mutaleni and her colleague Joy Dijksman (to be featured in an upcoming Humans of LIBER article) showed us around the library; we saw the staff area with coffee machines and massage chairs, and the beautiful Leeskabinet. Mutaleni shared her experience of starting to work at a research library during the Covid-19 pandemic, and her role serving researchers at Erasmus University.
Mutaleni's Background  
"My name is Mutaleni Nadimi, and I have been working here at Erasmus University Library since August 2020. I worked at the University of Namibia Press in Namibia, where I'm from, prior to joining Erasmus University. I was the editorial and production manager at the academic press. I have a background in publishing and film, and when I moved back to the Netherlands, I started looking at career opportunities at universities. The library feels like a natural place to work, even though it is my first time on the research support side of things. I thought it fell in the bigger scope of what I always thought was important, which is access to information. Since I was young, the library has always been the place you would find little Mutaleni. It wasn't very difficult to imagine myself feeling fulfilled working in higher education." 
Working at the Erasmus University Library 
"Now I work at Erasmus University Library as a project manager. I coordinate teams and timelines, and I coordinate between different projects and our collaboration with other faculties. This is very different from publishing a book or making a film. It is very much process–oriented. I work with my colleagues, and my colleagues are the experts who then serve our researchers. 
The Erasmus University Library has a great profile. When someone asks, 'where do you work?', it's wonderful to be able to say you work at this institution; before you even say what you do, everybody knows exactly where you work. The library itself serves the entire university. So that means you get to indirectly meet all the different faculties. We also have the Rotterdamsch Leeskabinet housed inside the university library. We have a fantastic collection of fiction, and all staff members get a library card. I don't think there is a week when I come to work when I am not returning or picking up books.
Then about the challenges — having started to work here during the pandemic, I personally found it challenging to onboard online. Although I don't think that is specific to the library. The challenges include not being familiar with the working environment and also not knowing each other. It takes time to know your colleagues' communication styles, character traits, with whom you can make a joke, who is more serious. That's really hard to figure out online when you meet in more formal meetings on MS Teams all the time. Despite that, I think we have somehow managed to also have conversations that are not related to work to get to know each other better." 
Being Part of the LIBER Community
"Being part of a larger organisation like LIBER helps us realise we are part of something bigger. Sometimes it's important to step back to see the global developments and resources available to you from sister organisations. In the Netherlands, we have a network, but at LIBER we have a network across the continent. Last spring, we took part in a virtual 'walking route' that Matthijs van Otegem our Director at Erasmus University Library planned as a social event, just to get us off our chairs and count our steps. The route was from Paris to Prague, and along the way, we were 'greeted' by Cecile Swiatek, Library Director from the University Paris Nanterre and board member of LIBER. She showed us the outside of one of the libraries there and gave us a mini-tour. That was so fun and refreshing: instead of just clocking the hours you were 'walking'; we all 'met up' en route and called on another organisation. I imagine in a different time, there would be more visits and actual physical exchanges." 
LIBER 2023 – 2027 Strategy
"A library is not just a content provider for journals, books, and other resources, it's also for services – to help you understand how to open up your research and data. Our approach has been to support researchers, to say 'if you don't understand it, we can help.' We have information sessions, hands-on workshops, one-on-one support, and we are working on making video tutorials available so people can find out more in their own time. But people do not always know what a library facilitates. What I've come to understand is that a lot of researchers are very self-sufficient, and they are happy to figure things out on their own when the resources are right in front of them. In 2021, I was lucky enough to participate in two campaigns in which the library cooperated with the Erasmus Research Institute of Management. One was on ORCID, and the other was a DataFest promoting the use of the EUR Data Repository. One of the outcomes which we did not anticipate was how our data stewards, information managers, and privacy officers said it was a great opportunity to meet researchers. 'It was so good for people to know how to find me!' they said. I think putting a face to these officers and the back office is really helpful for researchers. We can present the research support staff directly to the researchers, to make that line a little shorter so that they are able to get the support they need.
It's resourceful of the library to hire staff from diverse backgrounds in terms of our education and training because we bring in a new perspective and different skills to offer to our work. But I definitely think that we could benefit from more training on our part. The skills we need vary from role to role. I don't think it's going to be easy for us to grow in terms of staff numbers, so there has to be some investment in the people that are already here, so we are able to provide and perform the multiple activities that we need to do. But what those skills are is an interesting question. Some of the best training I get is listening to my colleagues while on the job. 
The library is definitely a hub that is trusted in many ways. We have students who use it as their second home. Also, we serve the research community — I think the question to our faculty members is always 'how can we help you?'. Added to this, we house the literary library whose members are residents of the city of Rotterdam — it's a library for everybody." 
If you feel connected to this interview, please tweet about it by clicking on the below tweet (and using #HumansofLIBER)!
"I think it's resourceful of the library to hire staff from diverse backgrounds, because we bring in a new perspective and different skills to offer to our work." Read the #HumansofLIBER interview with Mutaleni Nadimi: https://t.co/is0Jh0LJey [Photo credit: Arie Kers]@erasmusuni pic.twitter.com/7ivTIerITN

— LIBER Europe (@LIBEReurope) February 28, 2022
 The LIBER communications team visits different member institutions to conduct interviews. In light of the current Covid-19 restrictions, we are interviewing member institutions in the Netherlands initially, but we aim to expand the campaign to include our European member institutions once that is possible. If you are interested in being featured, please email us at elizabeth.bethlehem@libereurope.org. 
[Photo credit: We would like to thank Arie Kers, photographer at Erasmus University Rotterdam, who kindly volunteered to take Mutaleni's portrait].