LIBER Alert | Research Library and Open Science News | 5 June 2020
This is the 35th LIBER Alert.
LIBER Alerts are delivered once every two weeks to you and 672 other readers because you've signed up for news, resources and links from LIBER, its network and the world of Open Science. Receive LIBER Alerts directly by email.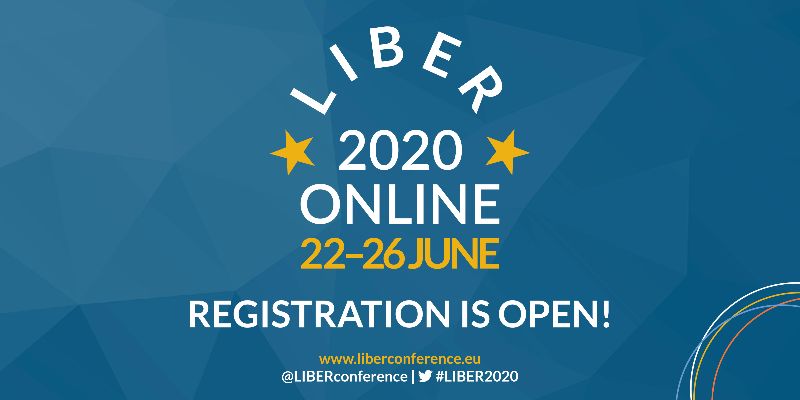 Registration for LIBER 2020 ONLINE is open! See the sessions and register.
LIBER News
ANNUAL Report
2019-2020 Annual Report: Read about our achievements in the past 12 months in our newly released Annual Report.
WORKING GROUPS
PROJECTS
Webinars
Citizen Science At Universities: Trends, Guidelines and Recommendations — 10 June, 1500 CEST — Four speakers will talk about current Citizen Science trends at universities. They will outline a template for a Citizen Science Single Contact Point which your institution could start developing and give a glimpse of the upcoming Research Librarian's Guide to Citizen Science. Register here.
Watch recent webinars from LIBER, and from the SSHOC and reCreating Europe projects.
Network & Open Science News
UNESCO Open Science Consultation: UNESCO is developing a Recommendation on Open Science and has asked LIBER to help gather the opinions of research libraries. Please take the survey.
Vacancies
LIBER Executive Board: Interested in LIBER's work? Have ideas for shaping our future strategic priorities? We're looking for two people to serve on our Executive Board.
Data Stewardship Coordinator at TU Delft. See vacancy.
Upcoming Events
Want to share your news in the next LIBER Alert? Email liber@kb.nl with a one sentence description and a link related to the news, event or job vacancy you'd like to share. LIBER Alerts are brought to you by Europe's Largest Network of Research Libraries.