Digital Scholarship and Digital Cultural Heritage Collections Working Group
Sharing & Learning From Each Other: A Very Successful First Meeting of LIBER's DH & DCH Working Group
On Tuesday 10 April 2018, about 20 members of LIBER's Digital Humanities and Digital Cultural Heritage Working Group convened in the KB, National Library of the Netherlands.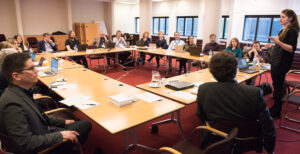 The working group, set up in the summer of 2017, wants to create a knowledge sharing network within LIBER libraries and this first meeting was organised to contribute to this. And, I must say, I think we were successful in this!
Thanks @Lottewilms Andreas Degkwitz @KB_Nederland @LIBEReurope for a really great #liberdh workshop. Such positive and open sharing of experiences, ideas, approaches for libraries in DH. And a mug too…? pic.twitter.com/SPRx75jBLZ

— Liam O'Dwyer (@lib_liam) April 10, 2018
The key points I am taking away from this meeting are;
Work more openly. Publish documents that you might think are only of interest to your direct colleagues, but can actually be very valuable to your wider network.
Take ownership of your expertise. My feeling is that a lot of people working in libraries have the tendency to diminish their knowledge about their jobs. Be proud to be a librarian (even if you don't have an MLIS) and don't be afraid to position yourself as the expert on certain topics.
Have your own research question in DH projects. If we want to be partners in research, we can also do research. Find the research aspect in the projects that are relevant for you and feed the answers you find during the projects back into your practice as a library. Make research projects mutually benefical and become the partner you want to be.
Two Days of Cultural Heritage Data
Already on Monday, some members joined the workshop on the Cultural Heritage Data Re-use Charter and spent the evening in a lovely restaurant sharing stories and experiences. This continued the next day. The next morning, after coffee, the leaders of the working group's four teams (see more about this on our page) presented what they had done over the past eight months and why people should join their break-out groups. The conversations of the meeting were supported by the enthusastic input which had already been gathered on DH literature and challenges in DH.
Getting Acquainted
After lunch we spent 45 minutes getting to know one another in smaller groups, with some conversation starters up on the screen such as 'How did you get started in DH?' and 'What skills have you learned while working in DH'? The conversation flowed so smoothly that 45 minutes was not nearly enough and we continued discussing into the lunch break.
Themes of the day: skill-building, cooperating with #researchers, roles of #libraries, #policies and #dch #liberdh pic.twitter.com/SqP00C1wRT

— LIBER Europe (@LIBEReurope) April 10, 2018
Breaking Out (For Lunch and Discussions)
After lunch, each team gathered 'their' members and sought out a quiet space in one of the four rooms arranged for us. I was in the combined room where the teams on Policies & Portfolios and Raising Awareness were talking about what use cases would be of interest to the wider group of librarians working in DH. We were a good mix of people from several university and national libraries and talked about how we worked, where we met with challenges, but also how we overcame them. The goal was to decide on one use case to describe in more detail, but we ended up deciding that it would be more useful to write up more short cases that could benefit more people.
In addition, we discussed sharing what we had worked on in our own libraries, such as personas for DH Labs or proposals for researchers-in-residence. Often we don't realise that this is something that could be very valuable for others to use in their own setups, and often these documents don't contain any trade secrets that cannot be shared. If someone asks, we normally share it anyway so why not share it in a public space?
Different Rooms, Different Topics
Another team talked about challenges around training and tried to categorise the types of challenges that are related to that and looked at finding structural solutions. Having a community of practice like Library Carpentry is very valuable, but only if the community contributes and if, when you have learned something, you share it with colleagues.
The final group talked about our relationship with the research community and how we as libraries can strengthen this bond, such as playing the long game and working with students to make them more aware of the library and its wonderful staff. Under resourcing is still a big issue when looking at this and more commitment is needed to ensure that we get to build this network and also keep it in place.
Thanks for having us @BL_DigiSchol @britishlibrary team in #liberdh @LIBEReurope DH work group at @KB_Nederland it's been a pleasure to meet everyone and talk about our shared challenges and needs https://t.co/hXC8BAGIDG @Lottewilms

— Adi Keinan-Schoonbae (@BL_AdiKS) April 10, 2018
What's Next?
Prior to this meeting, we asked our working group members what they thought were the biggest challenges when working with DH in their library. Unfortunately, challenges are still plenty, but I believe that we have heard many positive sides in the meeting as well and people who are proud of what they have achieved and learned over the years.
Our next post will thus focus on the challenges that we as libraries face when working in DH, but also share some stories how we can overcome these.
Presentations from the day can be downloaded (more coming soon):