ORE Project
Takeaways from the Open Research Europe Workshop: 'Key Synergies for an Open and Sustainable platform'
On the 9th of June 2022, LIBER and Open Research Europe (ORE) organised an online workshop to discuss the progress made on the project, assess its success, and review the challenges it has faced after over a year of accepting publications. Speakers were invited from LERU (League of European Research Universities), EUA (European University Association), and Tampere University library to join the event and outline the importance of ORE for Open Access and Open Science as well as demonstrate the power of collaboration when it comes to maximising the uptake and future success of ORE.
Community Gateways — Dedicated Publication Hubs
Kelly Woods, Senior Publisher at F1000, kickstarted the event by giving a brief presentation of ORE's publication model as well as recent updates that were adopted to boost engagement with and uptake of the platform. ORE recently launched Community Gateways & Collections to help authors find their way quickly, easily, and effectively. Community Gateways within ORE serve as dedicated hubs aimed to bring together all publications from a specific area of research. You can read more about ORE's Community Gateways here.
ORE as Tool to Advance Open Access and Open Science
Vinciane Gaillard, Deputy Director R&I at EUA argued that the ORE platform is a means to advance Open Access and Open Science. In a snapshot, EUA supports ORE because ORE: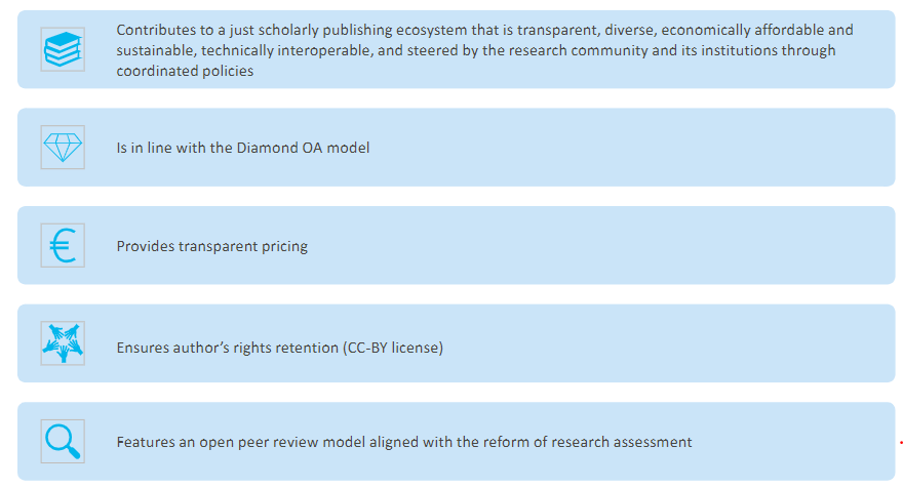 Next Ignasi Labastida, Rector's Delegate for Open Science, Universitat de Barcelona and Chair of the LERU Policy Group on Information and Open Access, brought the Budapest Open Access Initiative to the surface and argued whether ORE can be the answer to what was outlined in the Initiative over 20 years ago.
Why is ORE a viable and desirable solution? Below you can find a snapshot of the quick analysis: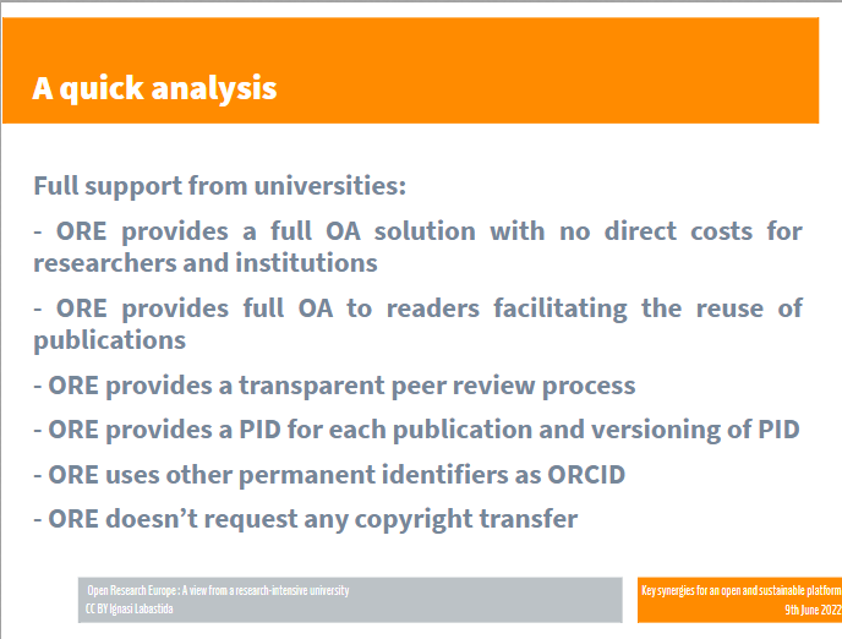 Moreover, Ignasi Labastida highlighted that university libraries have always been the stronghold of Open Access and can collect and assess feedback from researchers and can address the questions and concerns about publication at ORE.
The University Library Perspective
Lastly, Susanna Nykyri, Chief Specialist for Open Science at Tampere University Library and Publishing Manager at Tampere University Press provided the university library perspective. She began by mentioning that the motivations behind supporting ORE are clear; ORE is founded on Open Science best practices, and it eliminates the high costs of traditional journal publication routes. To maximise the impact and success of ORE, more focus needs to be placed on raising awareness of ORE's principles and practices and investigating the publication of open monographs to enable Open Access publishing evenly and across all disciplines.
Want to learn more about the ORE publishing platform and its benefits for researchers and research librarians alike? Read more here and you can always contact us via email (liber@libereurope.org) for any questions you might have. You can also view the presentation slides on Zenodo and the recording of the event on YouTube.