Copyright & Legal Matters Working Group
The Right to Read is the Right To Mine: But Not When Blocked by Technical Protection Measures
Tell us and the Libraries Archives Copyright Alliance (LACA) if you have been blocked from access to electronic content in the context of data mining.
Our Copyright & Legal Matters Working Group is working with LACA to gather evidence about what happens when Technical Protection Measures (TPMs) block researchers from accessing content because they have attempted text and data mining. 
The survey asks questions related to the type of content blocked, how the issue was solved and how long it took for access to return to business as usual.
Why Are TPMs A Concern?
Europe's new Directive on Copyright in the Digital Single Market includes two articles with text and data mining exceptions. The power of both could, however, be limited depending on how these articles are implemented by each Member State.
Article 4 is the more limited of the two exceptions. It is aimed at anyone wishing to data mine, particularly commercial organisations. Even if an organisation or person has legal access to the materials, however, rights holders can prevent data mining where a contract is negotiated directly between the two parties (e.g., an electronic subscription to a database). As for data mining the open web, Article 4 envisages standard protocols like robots.txt protocol being utilised or developed further to flag when a website should not be mined.
Article 3 gets closer to the principle of the Right to Read is the Right to Mine than Article 4, as it gives anyone with access to in-copyright works via research and cultural heritage organisations the right to data mine. However, two points related to Article 3 are concerning:
1. The suggestion in the recitals is that the outputs of text and data mining (the derived data) should be held by "trusted intermediaries". Universities and libraries are trusted to spend billions of euros on subscriptions and acquisitions each year, and trusted to preserve in-copyright material. They should also be trusted to hold the derived data that results from text and data mining. We urge researchers and librarians across Europe to resist any moves by Member State legislatures to restrict text and data mining and research by requiring third parties to hold derived data. We say "Trusted to buy, trusted to use."
2. The potential for technical protection measures to impede research. Although the Directive greatly improves on the current situation regarding TPMs blocking access to electronic material, we are still concerned that lock-out occurs too often and the time taken to resolve it takes too long. LIBER believes that "lock-outs" should be resolved within a maximum period of 72 hours, and that this should be reflected in Member State law in the revised transposition of Art 6.4 of the Information Society Directive (2001/29/EC) that is now required by the new Directive.
What's At Stake?
Much could be gained — or lost — for libraries, depending on how your country implements the Directive. This cartoon, illustrates what is at stake for Article 3. We discuss other opportunities in this blog post and in our step-by-step guide to helping shape your national legislation.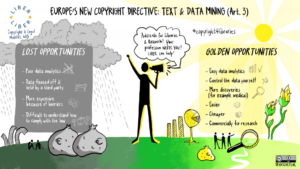 Sharing Your Experience Will Help
By telling us if you or your organisation have ever been blocked from accessing a publisher's servers for reasons you believe are related to data mining, we can make the case for better Text and Data Mining.
The survey can be answered anonymously and will remain open indefinitely. Please fill it out as and when you encounter a problem, and share it with researchers interested in text and data mining. If you prefer, you can send any information on this issue to liberlegalworkinggroup@gmail.com
We will publish the results on an ongoing basis via the LIBER and LACA websites, and share them with subscribers to LIBER's Copyright & Legal Matters Mailing List.
In this way, everyone advocating for library and research friendly copyright legislation in Europe can access real-life examples of what is currently occurring and how the situation can be improved.