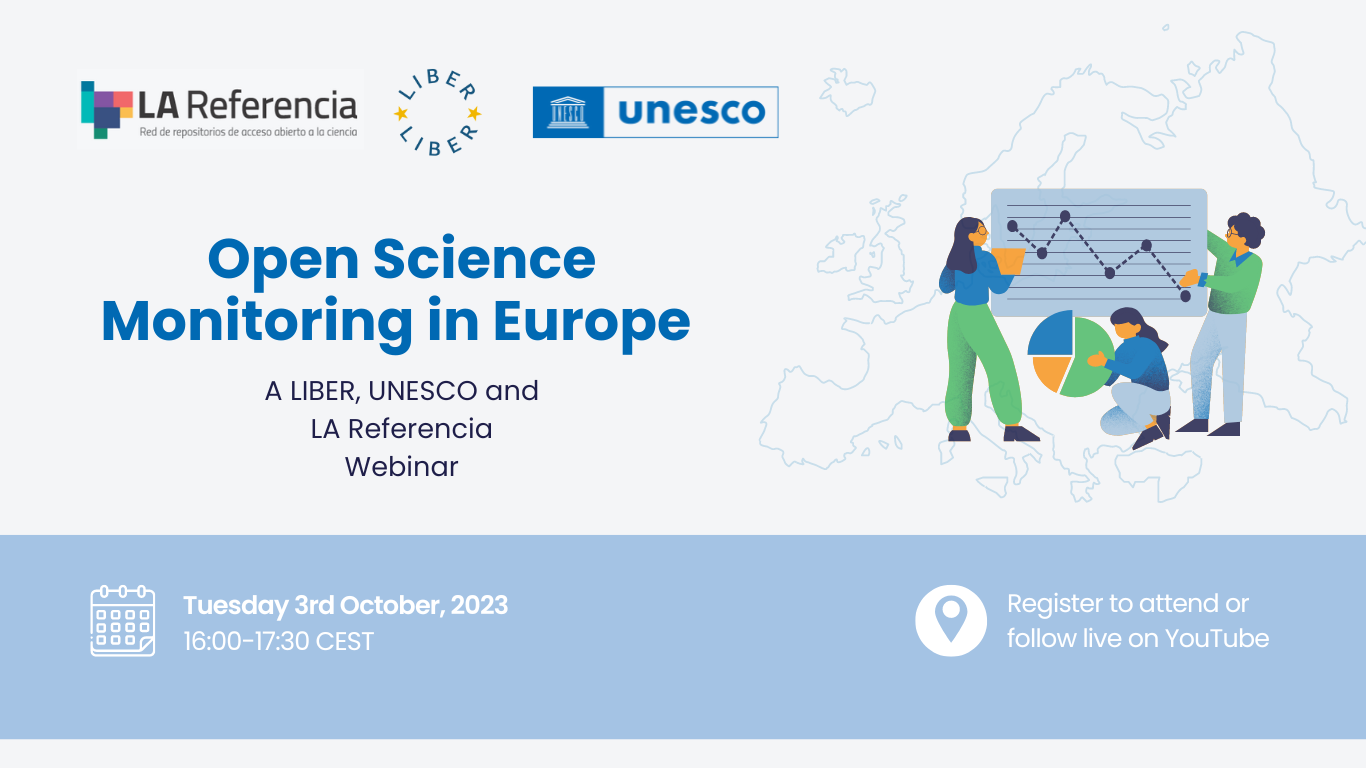 Open Science Monitoring in Europe: A LIBER, UNESCO and LA Referencia Webinar
UNESCO, LA Referencia and LIBER are hosting a joint webinar on Tuesday 3rd October (16:00 CEST) aimed at providing a state-of-the art analysis of the Open Science monitoring methods and tools currently developed in Europe. The event will introduce inclusive monitoring of Open Science, in line with the 2021 UNESCO Recommendation on Open Science.
About the event
The webinar will take inspiration from the similarities between Latin American and European approaches to Open Access (see this study in English and in Spanish) Attendees will gain insights for developing Open Science monitoring methods, criteria, sources and tools.
The main benefits for attendees will be:
Awareness of Open Science monitoring implementation momentum.
Knowledge of the UNESCO vision of Open Science monitoring and the tools needed to follow the implementation and fulfilment of the UNESCO Recommendation on Open Science.
An introduction to the state-of-the-art  monitoring methods and tools currently developed in Europe for measuring Open Science progress and actions (OpenAIRE monitoring vision, challenges, tools and methods; France and Finland's experiences with monitoring national and institutional frameworks and tools.)
An international alignment of reproducible methods, measurement criteria, tools and practices for assessing and monitoring Open Science progress.
Opportunities to develop partnerships, collaborations and networking between regions and/or countries.
Opportunities to develop their personal, institutional, and national network(s).
Programme
Introduction and welcoming words
Andrea Mora, LA Referencia President and Julien Roche, LIBER President 
UNESCO Monitoring Framework
Ana Persic, Programme Specialist for Science Technology and Innovation Policies and Open Science at the UNESCO Headquarters
OpenAIRE : State-of-the-Art OS monitoring method(s) and tools; OpenAIRE Open Science monitor
Eloy Rodrigues, Director of the University of Minho Libraries in Portugal 
French Focus: National OS monitoring
Laëtitia Bracco, Project manager of the French Open Science Data and Software Code Monitor, on behalf of Marin Dacos, National Open Science Coordinator at the French Ministry of Higher Education and Research in France
Finnish Focus: National OS monitoring
Sami Niinimäki, Counsellor of Education, Ministry of Education and Culture in Finland 
Q&A
Facilitated by Cecile Swiatek Cassafieres, LIBER Board member and University Librarian/ Library Director at Université Paris Nanterre in France 
Concluding remarks
Julien Roche, LIBER President
How can I attend?
Attendance is open to anyone interested in learning about state-of-the-art Open Science monitoring across Europe. Registration is required to join the Zoom session. 
The webinar will also be streamed live on the LA Referencia YouTube channel with Spanish translation for our Latin American audience. A recording of the webinar will also be made available after the event.