Open Access Working Group
OpenCitations, DOAB and OAPEN and PKP latest services to earn SCOSS recommendation
The Global Sustainability Coalition for Open Science Services (SCOSS) is calling on the international scholarly community to support three vetted and vital open infrastructure services.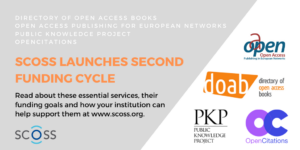 The services are:
LIBER backs the SCOSS call to support these services because it is in-line with our goal of ensuring that Open Access is the main form of Scholarly Communication by 2022. This cannot be achieved without the robust and viable support of key infrastructures.
SCOSS is appealing to academic institutions and their libraries, research institutes, funding organisations, national and regional governments, international organisations, learned societies and service providers —everyone who is invested in Open Access and Open Science — to consider supporting one or more of these services through a three-year commitment.
About SCOSS
SCOSS was formed in early 2017 with the purpose of providing a new co-ordinated cost-sharing framework for enabling the broader OA and OS community to support the non-commercial services on which it depends. In its pilot funding cycle, more than 1.5 million euros have been pledged by more than 200 institutions worldwide to help secure the Directory of Open Access Journals and SHERPA Ro/MEO.
LIBER collaborates with SCOSS. Giannis Tsakonas sits on both the LIBER Executive Board and the SCOSS Board, and Paul Johnson — a member of LIBER's Open Access Working Group — is part of the SCOSS Advisory Group.
For more details about SCOSS and this funding call, visit www.scoss.org.