Humans of LIBER Interview – Joy Dijksman, Open Access Officer, Erasmus University Library
This interview is part of the Humans of LIBER campaign 2022 — which draws upon the pillars of the upcoming LIBER Strategy 2023 – 2027. We feature real people working at research libraries who make up the LIBER community. We believe that by highlighting our community more humanely, we can create genuine connections within and outside of our network. We hope to see our community inspired by each of these personal stories of working at research libraries.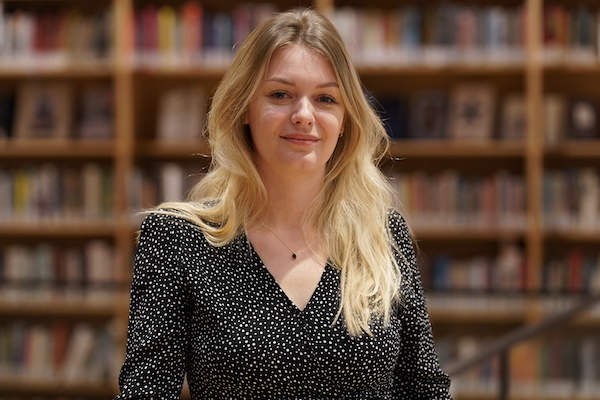 We interviewed Joy alongside her colleague, Mutaleni Nadimi, who we featured earlier in our Humans of LIBER campaign.
As (former) students at Erasmus University, we were very excited when Joy and Mutaleni brought us to the restricted staff area of the library to conduct this interview. Joy shared how she came into the role of Open Access Officer, and her experience in moving open access forward in the university. And now, over to Joy:
Joy's Background
My name is Joy Dijksman and I work as Open Access Officer at the Erasmus University Library. Before I started working here, I worked as a Programme Coordinator at a 'post-master' programme on the other side of campus, and prior to that, I studied philosophy and history at Erasmus University. So, you could say that I have really gotten to know this university from different perspectives. I recall one summer, when I was a postgraduate student, I wrote almost my entire thesis at the University Library (I can confirm that it is the best place to study on campus). It is very special to work in a place that feels so familiar and holds precious memories from a past time.
When I became Open Access Officer, it felt like I had found a practical goal that could cater to my righteous, idealistic nature: sharing knowledge and the outcomes of publicly funded research and giving it back to the community. I was amazed when I discovered the illogical and unfair dynamics of the classic article lifecycle where both researchers and their institutions are being used for a commercial system that does not add value to science. That was the main reason why I decided to work at the library, it was very idealistic. And of course, I am also kind of a bibliophile.
Before entering this role, open access was not something I was familiar with. There are no educational programmes or courses on the topic of open access, so I really had to discover the topic on my own. Luckily, there is a lot of information on open access available online, for example, webinars held and recorded by LIBER were very useful. LIBER does a lot in terms of reaching out and informing. I also appreciate LIBER newsletters as they help keep me up to date on the latest developments in the fast-moving field of open access.
Working at the Erasmus University Library
I think our University Library is a great place to work. First of all, it is a beautiful location to work; the library building is located between two ponds that are full of water lilies. The exterior blends in with the brutalist architecture of the campus, while the renovated interior is full of glass, steel, and warm oak, and feels very light and spacious. But what stands out most for me about working at the Erasmus University Library is the friendly working environment and progressive work culture. During my job interview in early 2020, I was pleasantly surprised to hear that the University Library supported remote working. The joke was on me, for one month later we were all in lockdown. Of course, hybrid working has become the norm for most people. But I think that one thing we have learned in the past two years is that connecting with co-workers is an important factor in our happiness at work. Therefore, I now try to go to the office 2-3 times a week. It is a great way to reconnect, and it has proven more effective for me to consult with a colleague in person than via e-mail or Teams.
The LIBER Strategy – The Drive for Openness
The Drive for Openness, a key topic of LIBER Strategy for the coming years, is of course very relevant for us as a research library and speaks to the core of my job as Open Access Officer.  Erasmus University made a big step this year in 'the Drive to Openness'. The University Library managed to embed Article 25fa of the Copyright Act (Taverne Amendment) in our university policy. The Taverne Amendment gives researchers the right to make short publications freely available to the public after a reasonable period of time. The library is facilitating researchers in their right to share their work publicly by means of an opt-out approach to the Taverne Amendment. This means that Open Access is now our publication standard for short publications. I am proud that our library has accomplished to provide this whole new level of research support which directly contributes to the societal impact of our researchers. Over the years, the Netherlands has managed to complement the 'grassroots' Open Access movement with a top-down policy that was needed to strengthen the position of researchers and their institutions. The Dutch national Open Science programmes and the cooperation between institutions are well established, but the scope of Open Access goes beyond borders and is not just about journal articles anymore. That is why it is important that research libraries keep exchanging ideas and experiences via communities such as LIBER. We must combine our knowledge and be the driving force behind the changes we want to see. With a combined effort I believe that a cultural shift in academia is possible.
Facilitating Open Science infrastructure is something my department, Research and Publication Support, works very hard on.
Outside of Work
Outside of work, I like to read, draw, paint, or do anything creative, really. Two books I have enjoyed reading during my holiday are 'HEX', by Jenni Fagan, about the last days of convicted witch Geilis Duncan, and 'The Happiness of the Wolf', by Paolo Cognetti, an ode to the overwhelming landscape of the Italian alps. Currently, I am also listening to the audiobooks of the Lord of the Rings trilogy, narrated by Andy Serkis (who plays Gollum in the movies). I can highly recommend these audio versions to fantasy lovers; Andy Serkis is a very gifted voice actor.
Furthermore, I love the outdoors. In a few months, I will be moving close to one of the largest nature reserves in the Netherlands, so I hope to be spending a lot of time hiking in nature. Until then, I am enjoying my city runs along the Maas and the iconic Erasmus Bridge in Rotterdam.
If you feel connected to this interview, please tweet about it by clicking on the below tweet (and using #HumansofLIBER)!
Read our latest #HumansofLIBER Interview with Joy Dijksman, Open Access Officer, Erasmus University Library: https://t.co/d5rZsWy4Vx. pic.twitter.com/vg5F6EmC8i

— LIBER Europe (@LIBEReurope) August 3, 2022
Author: Sasha Lam
Interviewers: Sasha Lam, Rosie Allison
Editor: Elizabeth Joss-Bethlehem
Photographer: We would like to thank Arie Kers, photographer at Erasmus University Rotterdam, who kindly volunteered to take Joy's portrait.
The LIBER communications team visits different member institutions to conduct interviews. If you are interested in being featured, please email us at liber@libereurope.org.